The Yergeau Lab is a diverse collection of researchers and students with a range of expertise from microbiology to agronomy. We believe that through such diverse perspectives and abilities we find more possible solutions to issues of our time. We work towards building an environment in which science is collaborative, creative and fun!
Principal Investigator
Étienne is studying microbes that covers the outside and inside of trees, crops, animals, ice, soil and water. Although he grew up in the city, he spent his summers as a kid at the family cottage in the Canadian back-country, where he became fascinated with all life forms and their interconnections. He is now leading a team of enthusiastic scientists toward (hopefully!) exciting discoveries. When he is not busy with science, Étienne enjoys spending time with his three kids and his wife, training for obstacle course races, snorkeling, BBQing, playing ice hockey or building stuff. Read more about his research here and follow the lab on twitter.
Post-Doc
Hamed is an environmental microbiologist with a background in soil ecotoxicology, biogeochemistry and microbial genomics. He obtained his first PhD degree in the field of microbial ecology at the VU University of Amsterdam in the Netherlands. He received a second PhD in biology from Jagiellonian University-Poland in 2015 where he studied the microbial communities of metal-contaminated forest soil. His postdoctoral research focuses on understanding the power of the soil and rhizosphere microbiome to protect crops against biotic and abiotic stresses, with the main focus on the impacts of abiotic stresses on the nitrogen-cycle functions in the wheat rhizosphere. Read more about his research and follow him on twitter.
Post-Doc
Since she was little, Ruth has been curious about tiny things that are invisible to the eye and how they are connected. Like microbes and how they communicate. That's how she started studying the volatile language aka smells (think of that good smell after a rainfall, yep that's geosmin) of microbes during her PhD. She got so fascinated by all the things they say, that she continued her research across the Atlantic Ocean. Now she's looking at the volatile language in response to climate change to help plants survive changing temperatures. Half of her soul is in the arts. So she's always been bridging both, like for example by composing a music piece inspired by microbial communication or by using arts to bring ourselves literally "in touch" with our microbial co-habitants. She also passionate about building a more inclusive and accessible scientific community for which she works on the leadership team of 500 Women Scientists and as an instructor at the DIY lab bricobio. You can read more about her research and follow her on twitter.
Post-Doc
Xiaobo is a soil microbial ecologist who has great interests in microbial biogeography, plant-soil microbiome interactions, and linkages between biodiversity and ecosystem functioning (e.g., nitrogen cycling, plant productivity and soil fertility) under different scenarios of environmental change (e.g., climate change and agricultural management). He got his PhD degree in the field of ecology at the Institute of Applied Ecology, Chinese Academy of Sciences in 2015. During his doctorate time, he investigated the patterns of microbial diversity and the mechanisms underlying these patterns based on a 4000-km transect across the grasslands of northern China. His postdoctoral research mainly focuses on developing and testing a model in which combinations of microbiological and biogeochemical factors will be utilized to predict wheat yields and nutritional quality.
PhD Candidate
Starting my graduate studies in the field of genetics and molecular life sciences through the learning of the gene regulatory and mechanistic cellular mechanism in extrinsic and intrinsic level, a robust molecular mechanism of cell developmental strategies and the key bio-engineering techniques in manipulating the biological function of the living organism in respect of various therapeutic, clinical, industrial and agricultural application, the research towards the systemic microbial ecology in investigating the microbial functional properties between soil and the plants playing an important role in driving our terrestrial agro-ecosystem has sparked my interest. By using modern perspective 'omics' tools for characterizing the microbial physiological, metabolic and genomic profile in engineering the beneficial microbial cell factories for future agricultural and food production is now one of the key research fascinations in my doctoral studies.
PhD Candidate
Since she was a little girl, Anne was fascinated by living organisms and their environment. It has always been important for her to be able to identify animals and plants surrounding her in the family's farm. Soon she wanted to study and understand the those organisms, first by measuring kittens growth as a child and after by attending a degree in biological sciences. In the farm, she has been sensibilised to the challenges faced by farmers and understood that soil processes sustaining food production remain poorly elucidated. She then decided to get specialised in microbial ecology by attending a degree at the National Museum of Natural History in Paris. She is now doing a thesis on gaz dynamics in the rhizosphere focusing on hydrogen-producing legumes. Those plants, in rotation with wheat increase yield, but the processeses underlying the hydrogen-fertilising effect remain poorly understood. Understanding these processeses and gaz dynamics around legume nodules might give insights on the crop rotation benefits and how plants shape the soil microbiome. Anne is also pationated about science education and is vice-president of an association of science education for children based in the botanical garden of Montréal to share the passion for life science with non-scientific public.
MSc Candidate
From catching frogs and tadpoles at the cottage with her sister as a giggling child to hiking mountains 5200 m over the sea, the outdoors has always bewildered Jessica. There is no arguing that her path towards environmental enlightenment has started for some time and continues to progress. Considerable and alarming knowledge about our current climate reality, urges many, just like her, to dedicate their graduate studies in the field of ecology. Her hopes are that during her Master's degree she manages to demystify the influence of plant microRNAs on the microbial communities found in the rhizosphere and rhizoplane. In which case, microRNAs could be used by agronomists as a tool to limit sustenance losses due to environmental factors (temperature extremes, insufficience of rainfall, invasive species and arising pathogens) catalyzed by climate change. Moreover, she believes being an environmentalist is more than a career – it's a way of life and invites all to partake in creating a greener version of the world.
PhD Candidate
When Sara was 15 years old, she attended a scientific talk in which the speaker metaphorically compared the planet Earth to our own homes, and related human derived pollution with teenagers' dirty rooms. This metaphor reminded her of a proverb her mother used to repeat to teach her the importance of respecting the clean environment she shared with others at home: "Cleaner is not who cleans more, but who dirties less". At that moment, she realized that if we were treating the Earth as our home, we were doing a very poor job polluting without cleaning as if there were no consequences. Ever since, Sara has been preparing to become a biologist to understand the processes linking every element of a living system to transform it into the ecosystems that provide us with everything we need. She is now an ecologist with a keen interest in Restoration Ecology and Ecotoxicology. Sara started her PhD in Biology in during which she works on improving present phytoremediation technologies to clean up polycyclic aromatic hydrocarbons (PAH). Get to know more about her.
PhD Candidate
Itumeleng (Itu) is a microbial community ecologist with a keen interest in testing ecological theories of community assembly; particularly, incorporating phylogenies in community assembly analysis. He has a firm background and deep understanding of Mediterranean ecosystems and ecological theory. His Ph.D. work focuses on understanding which assembly processes are delimiting the plant microbiome, as well as the evolutionary history of niche shifts and stability. This work will contribute to our understanding of how plant microbiomes are assembled and maintained, more importantly, offer a new perspective on the hologenome theory of evolution. He is also passionate about science communication and an active contributor to online discussions regarding advances and challenges in microbiome research. Read more about his work and follow him on twitter.
PhD Candidate
Liliana is a Ph.D. student co-supervised by Marc St-Arnaud from the UdeM. She works on wheat, trying to engineer the rhizosphere microbiome to increase wheat productivity under nutrient limiting conditions.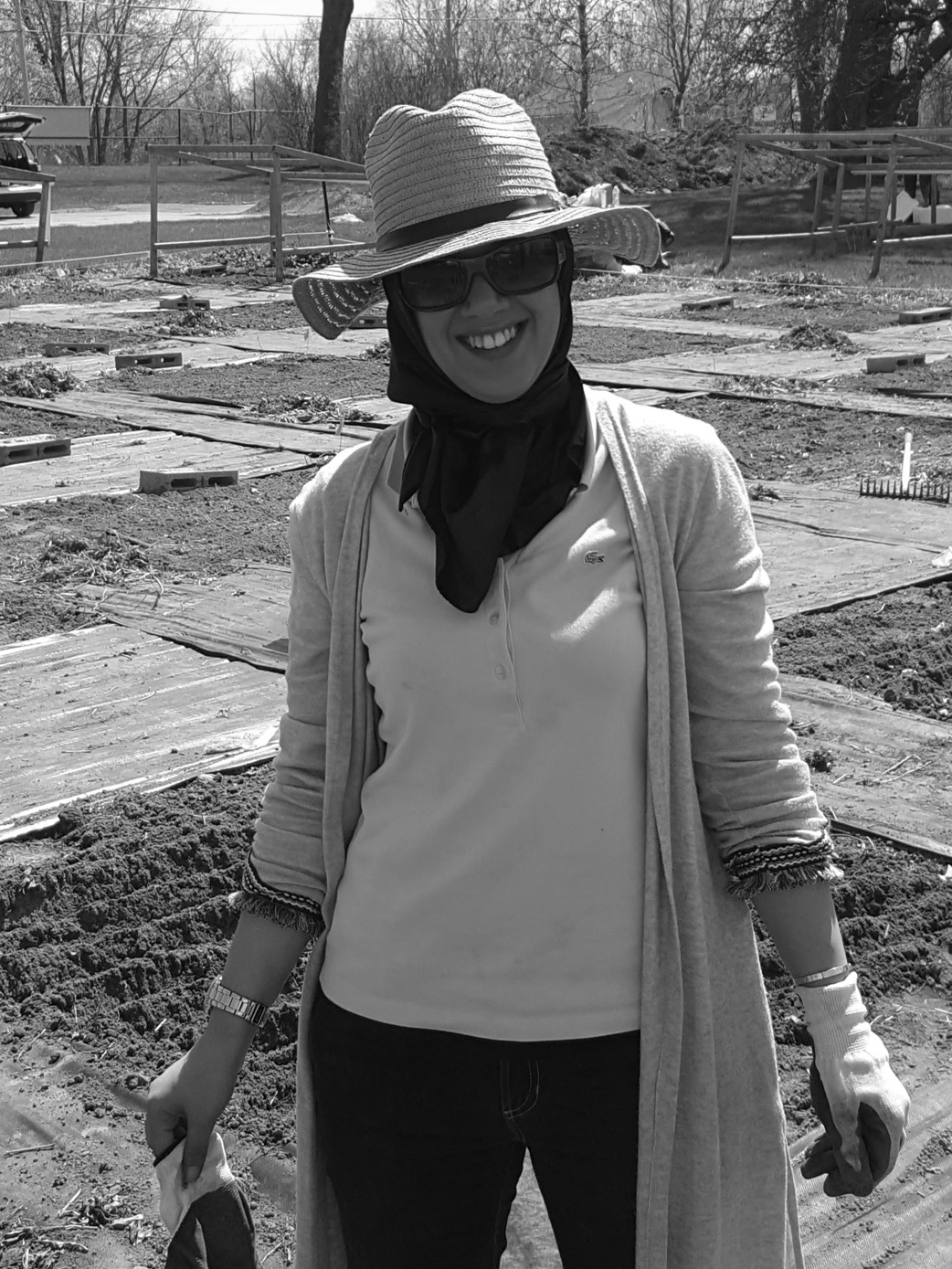 PhD Candidate
Asmaâ is a biologist. She obtained her first Master degree in the field of microbial biotechnology in 2013, and she received a second Masters degree in biology from the University of Montreal in 2017 where she studied the bioremediation of pesticides in the field of agriculture. Here PhD research focuses on understanding how the holobiont microbiome can change under drought conditions to protect wheat against water stresses, with the main focus on the metatranscriptomic responses of the holobiont drought stress. Follow her on twitter.
PhD Candidate
Pranav is a Ph.D. student co-supervised by Marc St-Arnaud from the UdeM. He is an aspiring bioinformatician and has a background in analysis of microbial genomics data. His Ph.D. focuses on the effect of drought stress on wheat holobiont communities. In future, his research will help in devising microbial based strategies to help plants tackle drought.
Alumni
Charlotte Giard-Laliberté, MSc, 2017-2019, Now a project manager at CETAB+, Canada
Usman Irshad, Post-doc, 2016, Now a professor at COMSATS, Pakistan